The Lansbergue trail runs from Tilques to Serques, starting from the guillotine bridge in Tilques.
7 kilometers long, this trail has been designed to accommodate walkers, pushchairs, bicycles and wheelchairs. It offers one of the most pleasant walks in the Audomarois marshes for lovers of hiking, walking or short walks.
This very touristy path runs along the so-called Lansbergue river, adjoining the main artery of the western Audomarois marsh: the Grand Large. Regarding the spelling of the name of this river, the most common is that of "Lansbergue". Some also call it Landsberg, Laensbergue, or even Lansberghe.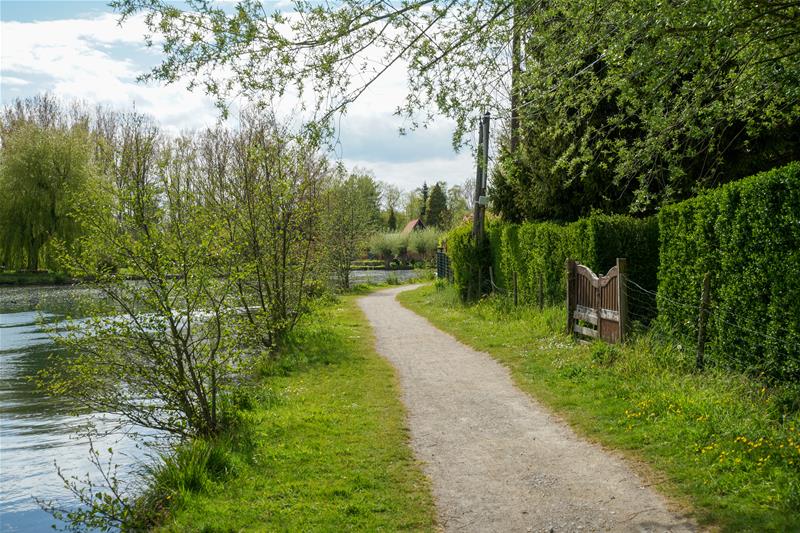 To see on the Lansbergue trail
On this walking / hiking trail, it is possible to appreciate a concentrate of the riches of the Audomarois marsh:
– Abundant fauna and flora taking advantage of the clear waters of the Lansbergue river. The latter is partly fed by the waters of the Aa, but also by springs. In order to appreciate its characteristics, the seven kilometers of the path are marked out by a dozen explanatory panels/desks. You also learn a lot about the history of the place, as well as about agricultural practices.
– Fishermen and hedonists sitting at the edge of the water, in search of sunny idleness.
– Pleasure boats and chalets fitted out at the edge of the water. It is here the "resort marsh" that can be appreciated.
– Pastures occupied by herds of cows and donkeys.
– A chapel erected after the 14-18 war by a resident of the town of Serques for the return of a son.
– A chain ferry linking the Lansbergue trail to the Communes trail.
A few traditional houses made of bricks and topped with Flemish pannels along the river and the Lansbergue path.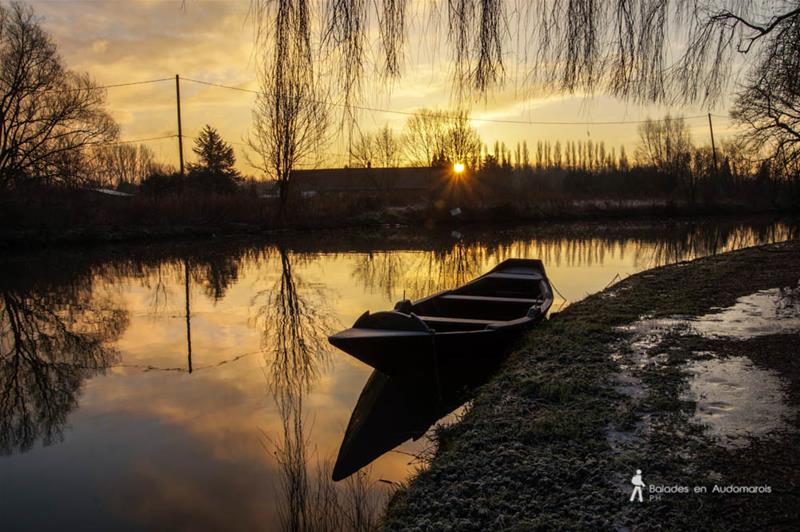 Location
The walk on the Landsbergue trail begins in Tilques at the so-called guillotine bridge.
History of the trail Lansbergue
The Lansberg trail, along the river bearing the same name, was once a path taken by breeders and market gardeners. It was the time of trips by bacôve and escute.
This small non-motorable dirt road was abandoned for a long time, until a recent rehabilitation. This project, which ran from 2010 to 2012, proved essential. It made it possible to avoid the collapse of the banks thanks to a fascination and to facilitate access for local residents. This work also had the corollary of shaping a beautiful short hiking path. Because indeed, the path of Lansbergue, by making a beauty, allowed at the same time the access to any public. Strollers, children's bikes and wheelchairs are now welcome.
In 2018, the Lansbergue trail was also equipped with 12 desk-type educational panels so that everyone can transform their little Sunday outings into an instructive walk.